The Myth of Stan Lee: A Conversation with Abraham Riesman
Monday, March 28
Event Time
03:00 p.m. - 04:00 p.m. PT
Overview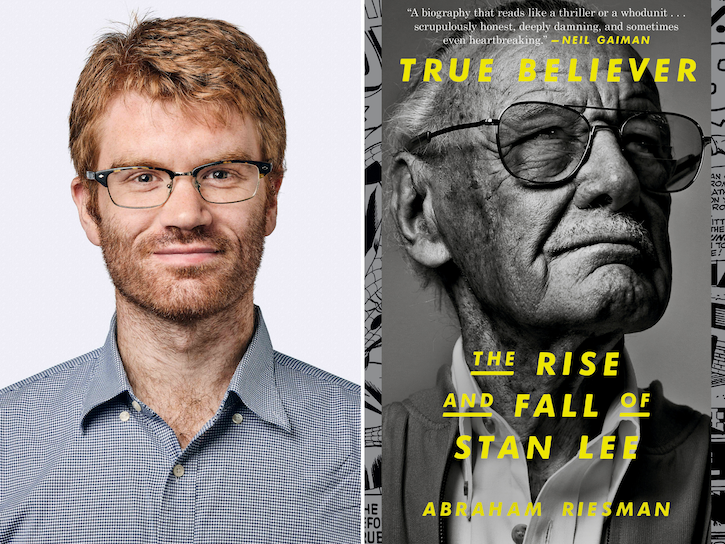 Journalist Abraham Riesman will discuss True Believer: The Rise and Fall of Stan Lee, his revelatory biography of the legendary Marvel Comics creator Stan Lee, Lee's complicated Jewish identity, and Lee's role in shaping comics and the entertainment industry today, in conversation with Prof. Rachel Gross (Jewish Studies) and Prof. Nick Sousanis (Comics Studies).
True Believer is the first complete and unvarnished account of the life of Stan Lee, the writer and editor who brought Marvel Comics to the world, changed global popular culture, and became an unmistakable icon, only to watch his life shatter into operatic tragedy. Based on more than 150 exclusive interviews and thousands of pages of archival material, True Believer's narrative stretches from Lee's ancestral trauma in eastern Romania to his shocking final days in Los Angeles. Along the way, it digs into many unsettling questions: Did Lee actually create the characters he gained fame for creating? Was he complicit in millions of dollars' worth of fraud at his post-Marvel companies? Which members of the cavalcade of grifters who surrounded him were most responsible for the misery of his final days? And, above all, what drove this man to achieve so much, yet always boast of more?
Abraham Riesman is a journalist and essayist, as well as the author of the biography True Believer: The Rise and Fall of Stan Lee (Penguin Random House/Crown Publishing). He was a longtime staffer at New York Magazine and its culture site, Vulture, and his work has also appeared in The Washington Post, The Wall Street Journal, The Boston Globe, VICE, The New Republic, and elsewhere. He is at work on his second book, Ringmaster: The Life and Times of Vince McMahon (Simon & Schuster/Atria Books). He lives in Providence, Rhode Island with his spouse and their three cats.
Free and open to the public. Presented by the Department of Jewish Studies and the Comic Studies Program. Co-sponsored by the Jewish Community Library and the Cartoon Art Museum.
Contact: Prof. Rachel Gross (rbgross@sfsu.edu) and Prof. Nick Sousanis (sousanis@sfsu.edu)
We welcome persons with disabilities and will provide reasonable accommodations upon request. If you would like reasonable accommodations for this event, such as real-time captioning, please contact Prof. Rachel Gross at rbgross@sfsu.edu as soon as possible so your request may be reviewed.