The mission of the Liberal Studies Student Organization is to build a stronger sense of student community in liberal studies at San Francisco State University, to encourage connection between the student body and the faculty of the School and to create space for interdisciplinary students to get acquainted, share knowledge and grow together as a School.
Liberal Studies Recognition Ceremonies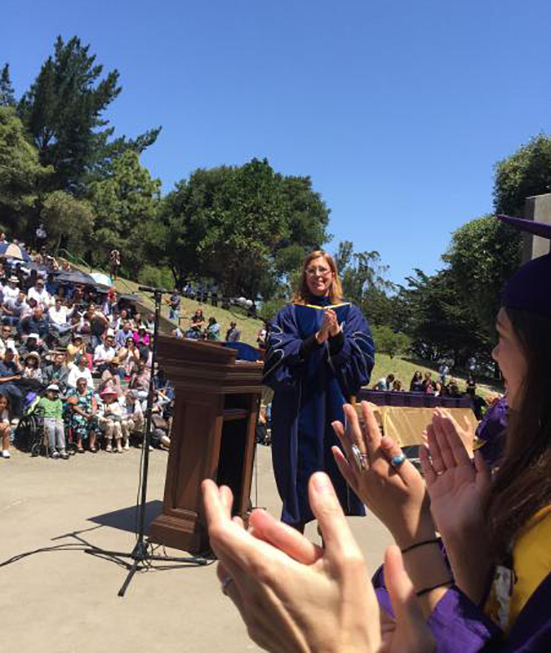 Professor Mariana Ferreira, applauding graduating seniors as they applaud her for her inspiring commencement address.
The Liberal Studies Student Organization was founded in 2010 by Lauren Bielenberg and Brittany Wrightson, whose interest was sparked and then supported by Acacio de Barros, their LS 309 professor. Their goal was to bring Liberal Studies majors together and create a greater sense of connection among the program's many and diverse students. Since then, the LSSO has achieved this goal by sponsoring and organizing the Liberal Studies recognition ceremony for graduating seniors.
Each year following the founding of the LSSO, the Liberal Studies recognition ceremony has become bigger and better. After humble beginnings in HSS classrooms, subsequent ceremonies have been held at the Music Concourse Bandshell in Golden Gate Park, the Student Life Center (Annex), and, most recently, the Jerry Garcia Amphitheater in McLaren Park.