Comic Studies has come to San Francisco State University, and now, you'll be able to receive a minor in Comic Studies!
Program Outcomes:
Analyze and express how comics uniquely convey meaning as a distinct medium, identifying significant formal features in their development and speaking to their purpose and contribution to storytelling;
Articulate a broad understanding of the history and evolution of the comics medium, an awareness of existing and emerging genres and styles of comics across the globe;
Articulate an awareness of historically significant creators, and the place of individual works in relation to larger contexts;
Effectively communicate a narrative or idea through the comics form utilizing a variety of different approaches;
Recognize the ways that they can employ the comics form to speak to real-world situations including an awareness and sensitivity of the way in which working with visual images can provoke different effects than working solely with text;
Use comics form as a means of self-discovery and expression.
Read interviews with Professor Nick Sousanis on the founding of the Comic Studies Program: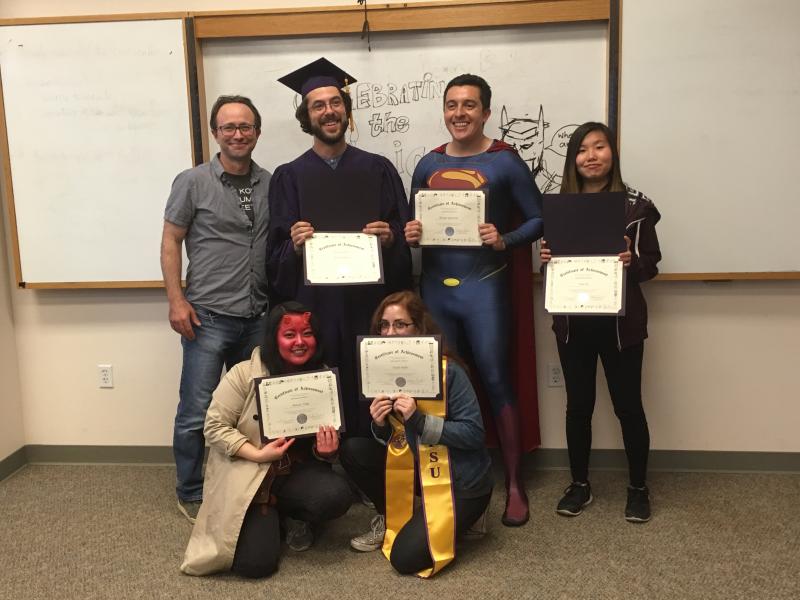 The first five students to graduate with the CMX minor.
Comic Studies Minor (12 units)
Students completing the minor will be required to take one core course and 9 additional units of electives.
All coursework used to satisfy the requirements of the minor must be completed with a minimum grade point average of 2.0.
Core (3 units)
HUM 325 Comics and Culture
Electives (9 units)
Select three of the following:
CMX 325 (HUM 325) Comics & Culture 
CMX 304 (HUM/LS 304) Making Comics 1 
CMX 540 Topics in Comics: 

SF Underground 
Manga
Queer Comics 
Superheroes 
Political Cartooning 

CMX 625 Advanced Readings in Comics
HIST 304 Teaching History through Comics 
ENG 300/CW 501 Graphic Memoir
COMM 428 Health Communication in Visual and Graphic Medicine 
GEOG 434 The Geography of Health & Health Care 
LS 426 Thought & Image
WGS 580 Feminism and the Speculative: Another World is Possible
GER 620 German Comics in English: Encounters, Conflicts, & Changes 
AFRS 675 Afrofuturism: Africana Speculative Fiction, Comics, and Music
HUM 706 Image & Culture (Comics)
Have questions? Then send an email to Comics Studies Coordinator Nick Sousanis at sousanis@sfsu.edu.
Please Note, Professor Sousanis is on sabbatical Fall 2021 and will return Spring 2022. He will still be available for advising, etc.
Archival CMX Offerings
The classes offered for CMX vary each semester, so make sure to check if you're interested. Here are the past posters created to advertise the classes.